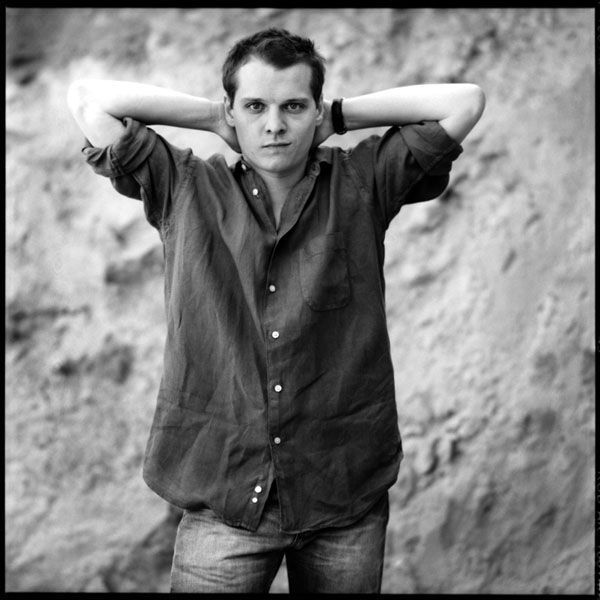 Picture is from here
Bénabar
(Bruno Nicolini) is a singer songwriter whose lyrics are very cleverly made. The message of the songs are good and he uses his words carefully. Songs are in French and he has released six albums the latest in 2011.
I specially like this song because of it's message about little things that change the whole world.
Check also:
Dis lui oui
("say yes to him")
Si le battement d'ailes d'un papillon quelque part au Cambodge
Déclenche, sur un autre continent, le plus violent des orages
Le choix de quelques-uns dans un bureau occidental
Bouleverse des millions de destins, surtout si le bureau est ovale

Il n'y a que l'ours blanc qui s'étonne que sa banquise fonde
Ça ne surprend plus personne, de notre côté du monde
Quand le financier s'enrhume, ce sont les ouvriers qui toussent
C'est très loin la couche d'ozone mais c'est d'ici qu'on la perce

*C'est l'effet papillon : petite cause, grande conséquence
Pourtant jolie comme expression, petite chose, dégât immense *

Qu'on l'appelle "retour de flamme" ou "théorie des dominos"
"Un murmure devient vacarme" comme dit le proverbe à propos
Si au soleil tu t'endors, de Biafine tu t'enduiras
Si tu mets une claque au videur, courir très vite tu devras

Si on se gave au resto, c'est un fait, nous grossirons
Mais ça c'est l'effet cachalot, revenons à nos moutons (à nos papillons)
Un hôtel un après-midi "aventure extra-conjugale"
Puis, le coup de boule de son mari, alors si ton nez te fait mal
*C'est l'effet papillon, c'est normal fallait pas te faire chopper
Si par contre t'as mal au front, ça veut dire que c'est toi l'mari trompé*
Avec les baleines on fabrique du rouge à lèvres, des crèmes pour filles
Quand on achète ces cosmétiques, c'est au harpon qu'on se maquille
Si tu fais la tournée des bars, demain, tu sais qu't'auras du mal
Pour récupérer, à huit heures, ton permis au tribunal

*C'est l'effet papillon: petite cause, grande conséquence
Pourtant jolie comme expression, petite chose, dégât immense *

Le papillon s'envole
Le papillon s'envole
Tout bat de l'aile
Tout bat de l'aile
BUTTERFLYEFFECT
If a butterfly claps its wings somewhere in Cambodia
It starts in other continent the most violent storms
The choice made by some people in eastern bureau
Overturns the million destinies, specially if the bureau is form of an oval
There's only the polar bears who are astonished when the pack ice melts
It doesn't surprise anyone on our side of the world
When the financiers catch a cold it is the working men who cough
It's far away from the ozone layer but it is from here we pierce it
* It's the butterfly effect: small causes - grate consequences
Though the beautiful saying: little thing, huge damage *
We're talking about "backfire" and "domino theory"
"Muttering increases to a noise" we say
If you fell asleep in the sun, you have to brush yourself with After Sun Care
If you punch a bouncer you have to run fast
If you stuff yourself with food in the restaurant you gain weight
But it is a common cachalot effect, but back to the business (to the butterflies)
In the hotel on the afternoon, "the extra-marital adventure"
Hit to the head from her husband, that is when your nose hurts
* It's the butterfly effect, it's normal, you might not get caught
But on the contrary if you have a headache - it's you who's been cheated*
From the whales we produce the lipstick, cremes for the ladies
When you by cosmetics, you make up with the harpoon
If you make a tour in the bars, you know you have hangover afterwards
At eight o'clock you can reclaim your license from the tribunal
* It's the butterfly effect: small causes - grate consequences
Though the beautiful saying: little thing, huge damage *
The butterfly flies
The butterfly flies
Everything wanes
Everything wanes