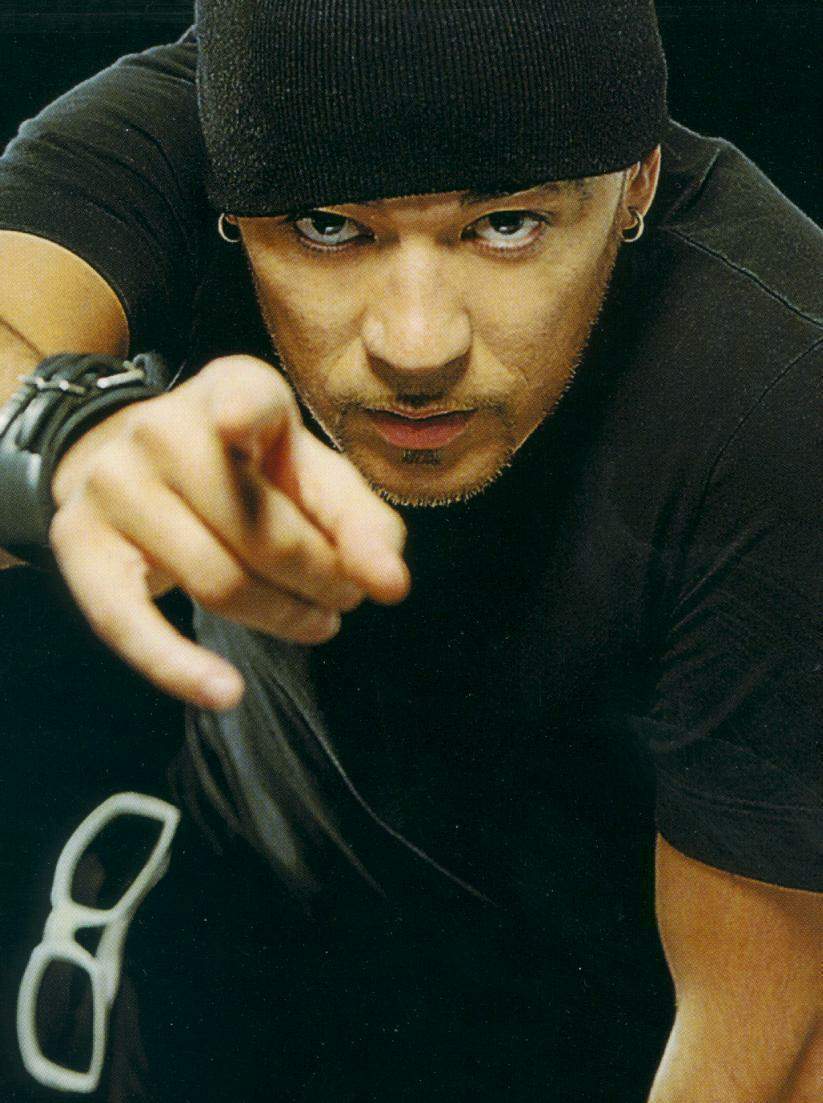 Picture is from here.
Pascal Michel Obispo aka
Pascal Obispo
is a French singer,composer and lyricist. He is known for his bold head and low profile when media comes along.
Though Obispo started with salsa is his genre nowadays pop. His voice is surprisgly high and clear.

He has collaborated with the most popular French singers as
Patricia Kaas
,
Natasha St-Pier
,
Garou
, Calogero, Faudel and Christophe Maé (I'll tell you more about Calogero, Faudel and Maé later) and other world celebrities as
Céline Dion
,
Lionel Richie
and
Youssou N'Dour
.
Obispo has released eleven albums starting from 1990 and the latest
"Welcome to the magic world of Captain Samouraï Flower"
was published in 2009.
In 2001 he won the Best French Male Artist -NRJ Music Award.
Since 1997 he has been one of les Enfoirés which is a enorme group of francophonic artists.
Check also:
Lucie, Tombé pour elle ("Fallen in love with her"),
Sa raison d'être
("Her/His reason to be"), Personne ("No one"),
Les meilleurs enemies
(
"The best enemies"
), La valse des regrets ("the walz of regrets"), Live performance in TV2 in "Le grand soir d'Eliane et Francis" with Christophe Maé, Mourir demain with Natasha St-Pier("To die tomorrow"),
Interview (in french)
, Another interview (in french),
Interview in Le Grande Journal
.
This song is very touching and I myself start to cry almost everytime I hear this. The melody is so melancholic, sad and dreary. The english translation does not sound as dramatic and beautiful as the original lyrics, sorry that.
ASSASINE
Tant de jours, de mois passés
Effacés et classés
Les maux et moments
Des plaisirs dépassés
Aux cimes de mes désirs
Ton ventre se dessine
Assez de simagrées
Tu m'as choisi pour cible
Assassine
Si je te suis des yeux
Ne crois pas que c'est un jeu

*Mais si tu m'assassines aussi souvent
Mais, le couteau dans la plaie trop souvent
Je préfèrerais que tu m'assassines
Pour de bon maintenant
Je ne supporterai pas longtemps
Que tu m'assassines autant*

J'en ai le souffle coupé
Je suis touché de plein fouet
Tu persistes et signes
C'est lourd les regrets
Assassine
C'est sublime mais il m'assomme
Ce bébé, mais c'est un beau prétexte en somme
Comme si l'amour ne durait tout le temps
Maintenant, je te fuirai des yeux
Même si mon coeur brûle encore le feu

*Si tu m'assasines.."



So many passed days and monts
Plain and classed
The pains and moments
Of obsolate pleasure
To the top of my desires
Your tummy draws
Enough fake gestures
You have chosen me as your target
Murderer
If I follow you with my eyes
I don't think it's a game
*But if you murder me as frequently
But – the knife in the wound too frequently
I prefere that you murder me
For good now
I will not endure much longer
That you murder me so many times *
From there my breath is cut
I am hit with all the forces
You persist and sign
It's a heavy sorrow
Murderer
It's lofty but it strikes me to the death
That baby, but it's a beautiful pretext I say
Like if love not endures all the time
Now I escape from you with my eyes
Though my heart still burns fire
*If you murder me...*